D.o.b. 09.09.2006
d.d. 06.07.2016
MET 7450 / 06
VDH / DZB 122233
Austrian Veteran Champion
BH, ZTP V1B
HD-1
vWD free  (click)
Cardio free 09/2015
Cardio free 12/2013 (click)
Cardio free 01/2012 (click) (click2)
Cardio free 07/2009 (click)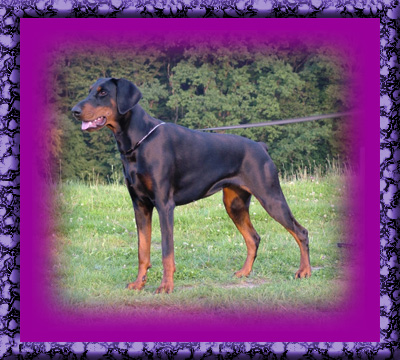 On September 2006 Baileys saw the light of day in the nice town of Budapest, in the kennel Diamont of Batorkeszy.
Already 8 weeks later we brought her home. During that time our hearts still mourned for Ivanhoe. With Baileys,
pleasure and life came back to our house. We thank her so much for that!
Our Baileys is he most friendly, sociable, and cheerful dog.
She has a completely free nature, is unbelievable curious and very lively. Just a real Hungarian!
Within a very short time, everybody loved her and enjoyed her zest for life.
Baileys has a very short, strong structure, a very good forehand and hind leg angle, and a nice, correct head.
In training she shows best drives, great enthusiasm, and develops amazing quickness.
We certainly will enjoy the period of training with her.
At present we are working for companion and staying power exam in 2008.
ZTP are also scheduled for this year and we are very optimistic in view of so much enthusiasm.
Pedigree
Chevy Extra Moravak

21.05.03 - 26.11.12


Como Jivono di Matario

11.04.97 - 07.07.05


Jivago v.h. Wantij

12.01.95 - 09.01.06


Ono Royal Bell

18.05.92 - 01.01.98


Elis Moravak

20.12.95 - 04.12.07


Aldo z Heranovy Vily

02.11.91 - 27.01.04


Clea Gemerske Lucky

31.03.90 - 01.04.01


Kathleen vom Residenzschloss

10.01.2003 - 17.03.2011


Zolotaya Dinastiya Shannon

18.02.98 - 12.11.07


Prinz v. Norden Stamm

27.10.88 - 01.01.01


Zozotaya Dinastiya Tara

05.03.96 -


Francesca vom Residenzschloss

09.07.2000 -


 

Gadis Geromy del Citone

01.09.97 - 01.01.2003


Ria Royal Bell

13.07.93 - 09.2003

Show Results

Date

Class

Place

Judge

Assessment

10.03.2007

Puppy

Graz Winner Show 2007

Martin Gschwindl

vv3

11.03.2007

Puppy

IHA Graz 2007

Ernst Kugler

vv

16.06.2007

Youth

LG Siegerschau Westfahlen

Inge Eberstaller

Sg2

15.07.2007

Youth

LG Siegerschau Thüringen

Thomas Becht

Sg4

29.07.2007

Youth

CAC Lampertheim

Hans Wiblishauser

Sg4

11.05.2008

Intermediate

6.Vienna Dobermann Winner Show 2008

 

Thomas Becht

V3

06.07.2008

Intermediate

Nordhausen LG-Siegerschau Thüringen

Norbert Daube

V2, CAC-Res.

02.08.2009

Open

EDTWS Graz 2009

Erika Szokol

V

06.12.2014

Veteran

IHA Wels 2014

Friederike Kappacher

V1, Vet.-Winner

07.12.2014

Veteran

IHA Wels 2014

Inge Eberstaller

V1, Vet.-Winner

15.08.2015

Veteran

IHA Innsbruck 2015

Friederike Kappacher

V1, Vet.-Winner

16.08.2015

Veteran

IHA Innsbruck 2015

Roland Spörr

V1, Vet.-Winner