D.o.b. 07.03.2008
d.d. 13.06.2019
VDH / DZB 122754
HD-1
DCM gene positive heterozygous
Cardio free (05/2013)
Cardio free (08/2014) LMU München
Cardio free (07/2015) LMU München
Cardio free (11/2016) LMU München
Cardio free (12/2017) LMU München
BH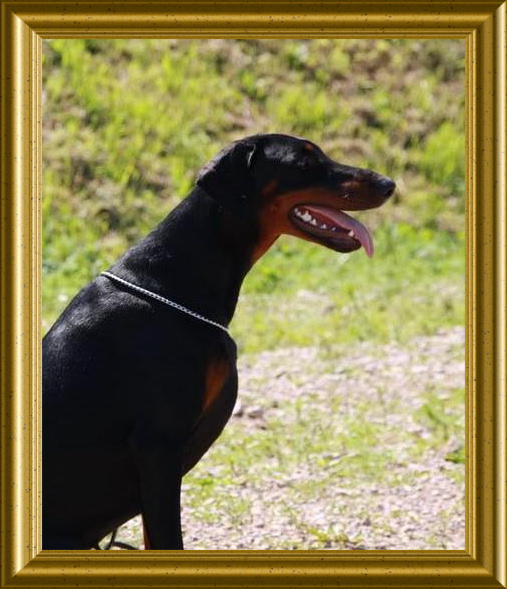 Arwen is our little mouse, our baby.
Of course, we kept a puppy from our first litter. Who can part with all his puppies the first time? I think nobody.
Arwen has got the temper of her mother and the heart of her father.
She is always in motion. We say "jack-of-all-trades". Courageously and pluckily, she jumps at everything what "threatens"
us in our everyday life.
Arwen is a very clinging and loving dog. On the sofa she absolutely wants to be a pet dog and likes to cuddle.
In training she shows real fighting drive and speediness.
Supplement: After we lost Arwen's mother so suddenly and the DCM genetic test is positive (PDK4 = DCM1 heterozygot),
we have Arwen never used for breeding. The risk that she inherited sick genes was too high for us.
It is regularly examined in Munich and is up to now DCM free. We hope this remains the case.
Pedigree:
Paradiz Ronado Kosmos




 

Ardens Gauguin




Alfa Adelante del Citone




Ardens Eclypse De Luna




S'Lichobor Tornada




Alfa Adelante del Citone




E'Bazylea Helloween




Ophaya vom Residenzschloss




Vero van het Wantij




Jivago van het Wantij




Grafin Goldie v. Franckenhorst




Carrera vom Residenzschloss




Alfa Adelante del Citone




Ria Royal Bell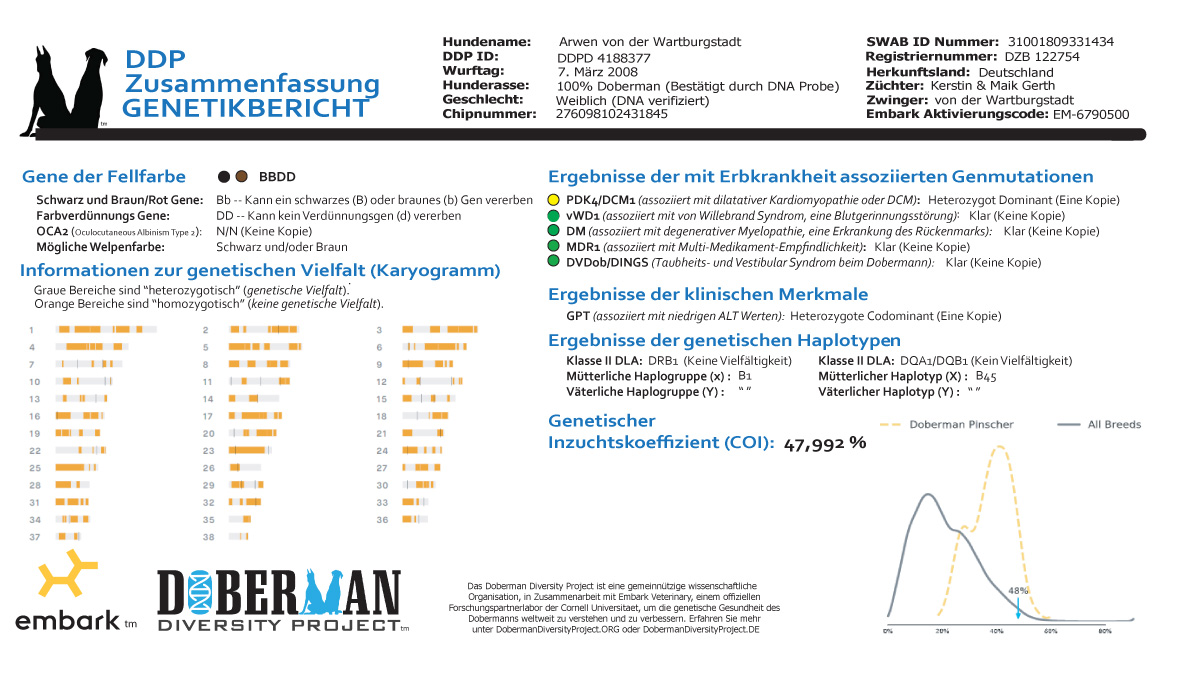 Show Results

Date

Class

Place

Judge

Assessment

18.10.08

Puppy

Bundessiegerschau in Dortmund 2008


Herr Th. Becht (D)

vv


02.11.08

Puppy

CACIB Hannover 2008


Frau Hassi Assenmacher (D)

vv


05.04.09

Youth

6. Nationale Zuchtschau Dresden 2009


Herr Peter Machetanz (D)

Sg 2


02.05.09

Youth

Europasiegerschau Dortmund 2009


Herr Th. Becht (D)


Sg

13.06.09

Youth

2. Nationale Zuchtschau Erfurt 2009


Frau Rene Sporre Willes (S)


Sg 1


14.06.09

Youth

CACIB Erfurt 2009


Herr Th. Becht (D)

Sg 3


02.08.09

Intermediate

EDTWS Graz 2009


Frau E. Szokol (HU)


g


31.10.09

 

24.07.11


Intermediate

 

Open


CACIB Hannover 2009

 

Niedersachsen Siegerschau Melle 2011


Frau Anna Tits (RUS)

 

Herr T. Dohószki (HU)


Sg 2

 

V